In a previous post we discussed the benefits of vehicle signage for advertising your business. Effectively designed and skillfully applied branding is all very well, but how is a company's image presented when the graphics are covered in a build-up of road dirt, brake dust and sometimes even mud?
There is no doubt that vehicle signage is the best bang for your advertising buck, and keeping graphics well maintained will ensure the best return on your investment. So many businesses exercise their right to promote their brand on their company vehicles, yet few understand the true power of representing their company image on the street.
We have collated some advice for looking after your signwritten company vehicles, and insights on what to expect from your signage suppliers.
Cleaning your signwritten vehicle
To optimise your brand communication with existing and potential customers, company vehicles should be cleaned once a week, rain or shine (especially when commuting along metal roads!). The benefit of washing regularly is that the cleaner the vehicle is, the easier it is to maintain a sparkling finish.
With today's high-quality vinyls, thorough preparation and professional application, there's no reason that a signwritten vehicle can't be run through a car wash. Or if you want to get hands-on, here are some handy tips for cleaning your company car.
Pre-soak the vehicle with cold water to soften dirt and road grime
Use a mitt or soft car brush on paintwork and graphics
Spray environmentally friendly citrus cleaner, such as Pacer, on the wheels to dissolve brake dust and road grime
Use a microfibre washing pad or soft-bristled broom head with a wash & wax solution in warm water
A chamois gives a great finish, removing water spots from paintwork and vinyl graphics
Once the tyres are dry, apply a thin coat of tyre shine, which can be purchased at auto accessory retailers
Lastly, polish the vehicle with a quality automotive car polish every six months. You'll be amazed at how a polished surface makes it easy to maintain a clean appearance.
If you are likely to take customers in your car, particularly as a sales representative, it's important to also keep your interior looking spick and span. A car looks much more presentable when seats are clear and foot wells are free of rubbish. Use a multipurpose auto cleaner for all surfaces to remove dirt, dust and debris, and keep a container of auto cleaning wipes or a dry microfibre cloth for a quick wipe down whilst sitting at traffic lights.
We know it's not easy to keep a car spotless when it's also used outside of work as a personal vehicle, but just consider your company's image when a client is sitting on dog hair and food scraps!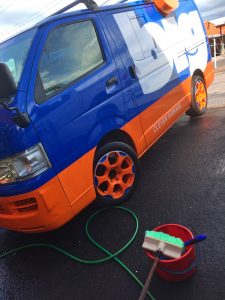 The graphic application process
When investing in signage for your company vehicle or fleet, have a chat to your signage supplier about their application processes to ensure that you are receiving high quality services and long-lasting products. Accept nothing less than the following procedures:
The vehicle is thoroughly cleaned before any work is to begin
The vehicle is chemically de-waxed before application, so that the vinyl is adhering to the paintwork not a layer of polish
Consider whether vehicle badges can be removed to create an uninterrupted canvas for your branding
All swages and indented surfaces should have adhesion promoter applied
No cutting of vinyl on the vehicle, which can be achieved by using knifeless tape
Vinyl needs to be applicated in such a way that it's not overstretched — a professional will be skilled in this process
Most importantly, the vinyl needs to be post-heated at approximately 65°C. This is a key part of the process and with our keen eyes and industry experience we see that this step is often lacking.
Vinyl is commonly under warranty from suppliers if the correct application procedures are used, including preparation and post-application heating. Low quality and short-term promotional vinyls will shrink within months, exposing adhesive and gathering road dirt, which is indicated by a dirty line around the edges of the graphics. Premium grade vinyls have an exterior life of 7+ years, and are the only way to go for long-lasting quality. If you have any queries about vehicles graphics, please don't hesitate to contact us!