Massey University – Speaking to the People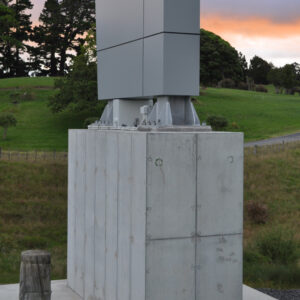 Massey University is proud to reveal their new landmark roadside sign, a project two years in the making.
A majestic steel framed sign, weighing in at approximately five tonnes, offers a backlit sign board with huge visibility both day and night. The sign uses ACM cladding for exceptionally clean lines and durability, while the huge, robust concrete footing is as large as 5 VW cars. Overall, the sign measures an impressive overall 12.5m x 4.0m.
The roadside plinth features the University Crest, and a 48 panel Colour LED board driven by WIFI for timely content change. With these superior components, it's hard to miss!
Digital signage is a superb medium that offers the University huge potential and flexibility for communicating directly in and around the University and allows promotion of courses and activities to a wider audience.
This digital signage allows the University to tailor their interactive messages to their audience at any given time, a testament to their innovative, progressive philosophy.
Research shows that more than five times as many people look at digital signage when compared to flat signage, and spend on average 40% more time looking at digital displays.
For the University, positioning this digital sign on a busy traffic corner outside their campus in Albany has been a creative and important advertising tool for them.
It is still early days for the highly visible sign but the University has already reported significant interest in the sign and the LED message board has resulted in many course registrations.
Once again, BIG signage is making a BIG impression!