 Location
---
Auckland Central
Services
---
Neon Signage, Installation, Design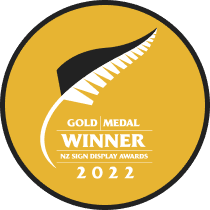 The Plan
In collaboration with Warren & Mahoney, we had the golden opportunity to design, manufacture and install various graphics and signage for 2Degrees' new head office, crafting an inspiring and dynamic workspace that energizes staff and impresses visitors.
The Execution
We embarked on an exciting project, showcasing our comprehensive range of expertise. Working closely with interior designers and the client, we meticulously crafted a concept that perfectly captured their desired "DIY Kiwiana" aesthetic. From glass graphics to awe-inspiring larger-than-life murals, we utilized state-of-the-art LED and neon technology for both internal and external signage. Additionally, we transformed the office space with a painted mixed sports court, infusing energy and creativity into the environment. Pushing boundaries further, we even designed impressive three-dimensional accessories, including a magnificent rotary phone dial.
The Outcome
We successfully crafted a visually captivating and aesthetically pleasing work environment that exudes a sense of fun and motivation. By infusing the space with a vibrant Kiwiana atmosphere, we created an atmosphere that inspires and energizes both employees and visitors. The carefully designed elements aim to encourage people to return to work, ensuring a dynamic and engaging workplace. Notably, the installation of impressive, large illuminated signs serves as a striking statement, leaving a lasting impression on all who enter. The result is a space that fosters a positive and enjoyable atmosphere, driving creativity and productivity.