 Client
---
Chorus

Date
---
Mar-Jun 2022
Location
---
Graham Street, Auckland Cit

Services
---
-  Design, Glazing Manifestations/Graphics, Digitally printed wall+pillar+locker+lift graphics, Router cut mirrored wall text, Kitchen/utility naming, Illuminated features incl

- Digital LED [animated] logo, ceiling LED Neon wayfinding features, Large scale infinity mirror, Sign-in Kiosks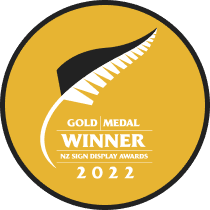 The Plan
In partnership with Warren & Mahoney, we undertook the fit-out for Chorus' new office, resulting in a vibrant, playful, and futuristic workspace. Our collaborative efforts aimed to create an environment that inspires innovation and fosters a dynamic work culture.
The Execution
Our team takes pride in our comprehensive work, which encompasses all aspects of signage and graphics, all thoughtfully designed in-house. We showcased our creative fabrication skills through the development of custom sign-in kiosks and an awe-inspiring infinity mirror. One of the standout features of our project involved the intricate LED 360-degree neon tubing ceiling art, for which we collaborated closely with LED specialists to achieve a mesmerizing effect. We incorporated various colour-blended graphics throughout the space, adding visual interest and depth. The graphics package was also meticulously crafted based on their branding guidelines and the essence of what Chorus is about, completing the immersive and visually stunning experience.
The Outcome
Through a fruitful partnership with Warren & Mahoney, we successfully designed and implemented a dynamic and engaging working zone that fully embodies the essence of Chorus' brand guidelines. Our team meticulously crafted a colour-coded wayfinding system, expertly depicting various departments within the corporate organization. The result is a visually cohesive and intuitive navigation system that enhances efficiency and reinforces the company's identity. Our commitment to delivering a vibrant and enjoyable workspace aligns seamlessly with the client's vision, resulting in a harmonious integration of design and functionality.