 Client
---
Emirates Team New Zealand

Date
---
Feb-Mar 2023
Location
---
Auckland City

Services
---
Design, Digitally printed media application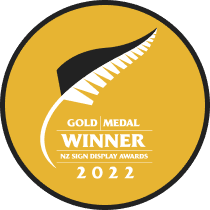 The Plan
Our team was challenged to develop a new brand identity for Emirates Team New Zealand, centred on the powerful concept of – "The Future".
The Execution
The design team BIG undertook the task of creating a fresh and innovative identity for Emirates Team New Zealand. With meticulous attention to detail, we carefully selected colours that infused a futuristic essence into the brand. Building upon this foundation, we extended the brand's visual identity by incorporating a captivating digital wave graphic that has now become a signature element across all brand assets and exposures. From the development of a new logo to the application of the brand on their base, race yachts, tenders, and even the hydrogen boat, we ensured a cohesive and impactful branding experience across various touchpoints.
The Outcome
Our meticulous attention to detail has resulted in a seamless integration of brand and graphics across all team assets, from letterheads to race boats. The cohesive and futuristic brand awareness achieved is a testament to our professional expertise.